Chen Chih-Chien

Airspace
2018
Low fog machines, AR system, iPads, headphones and a subwoofer
Political Warfare Building, 2F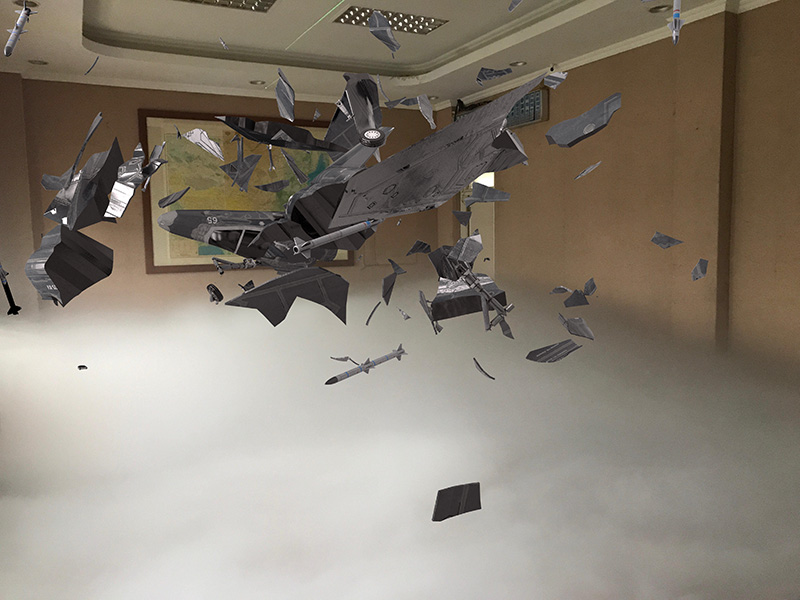 Through his installation work, Chen Chih-Chien reflects upon the human obsession over the sky. Beginning with a desire to soar through the air like birds, humans attempted to discover the mystery of flight; unable to achieve their goal, they had to be contented with the creation of myths. Humans once believed that the sky was reserved for the gods and entrusted their desire to fly with the immortals. However, these myths did not satisfy the curiosity of mankind nor did they prevent humans from seeking the secrets to flight. Humans invented tools such as kites, balloons, and Zeppelins to break the limits presented by the sky. However, due to humans' limitless desires to dominate the sky, people have settled for defining national borders through military force. Nations have the power to govern their skies, selling air rights and charging overflight fees, air pollution fees, and radio frequency usage fees. In today's society, the sky has almost become a consumer product that can be accessed if one has enough money or the right flying equipment. Humans began with a dream to fly but now the sky is inundated with flying objects.
Airspace
will be exhibited in the commander's office of the former Air Force Commander Headquarters which was once the highest center of command for Taiwan's air force. Chen will use a mist machine to emulate clouds, allowing the viewer to see the imagined and the unseen – the desire, power, information, fantasies, and unknowns surrendered to the sky – through an AR program.
*The work is 15-minute long with maximum capacity of 12 persons. Please wait in line 10 minutes prior to the entry of every full and half clock between 10:30am to 5:30 pm.
---
Chen Chih-Chien


Chen is concerned with issues of time perception. Chen often creates his works of art using mechanical installations in conjunction with interactive installations presented in a real-time program. He is also a member of LuxuryLogico, a hybrid interdisciplinary artist group.